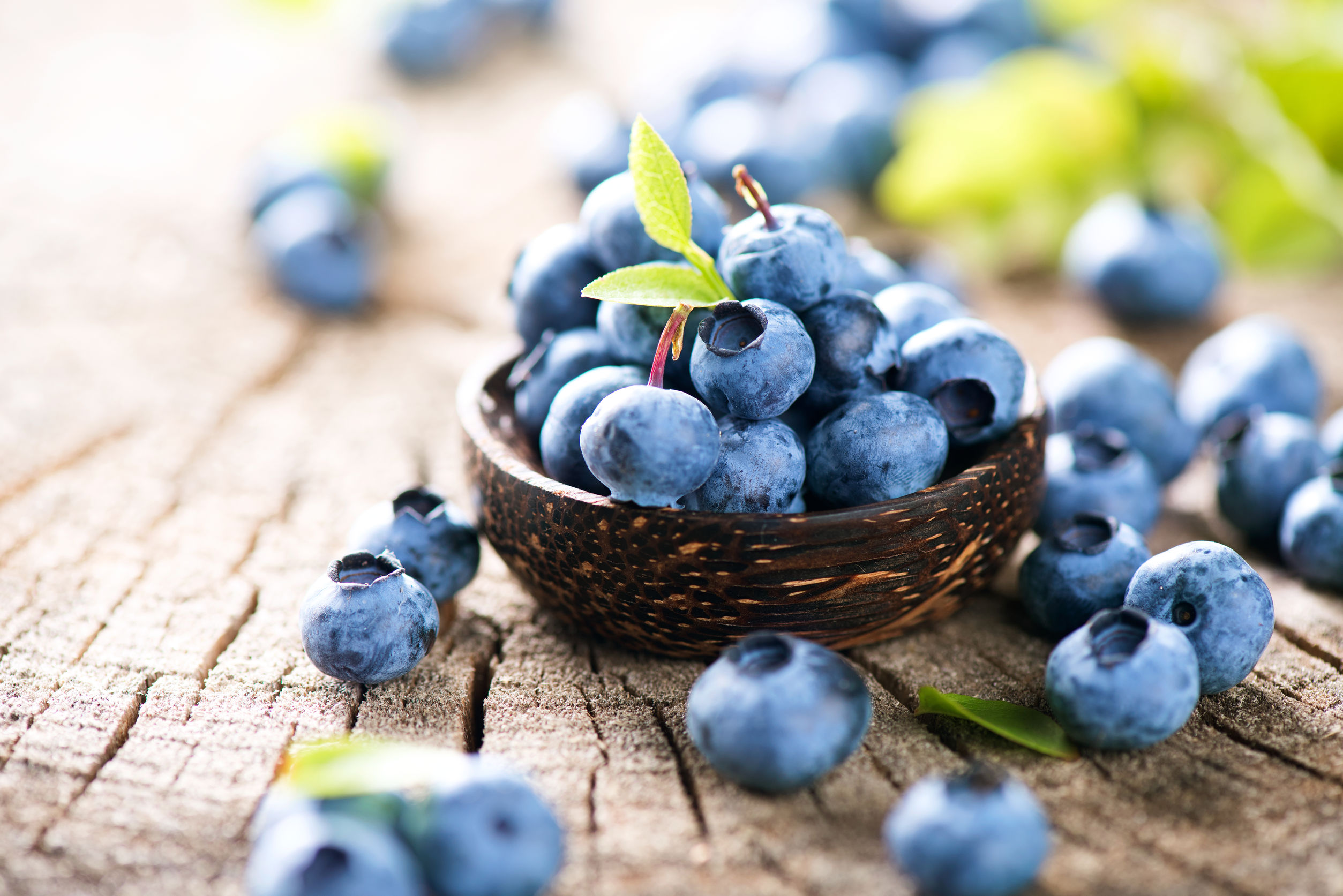 June is here and Blueberry Picking has begun at Goderie's Tree Farm!
Blueberries are one of the easiest fruit to prepare and serve. There's no peeling, pitting, coring or cutting. They have few natural pests, (other than birds), so pesticides are generally unnecessary!
Picking tips:
Select plump, full blueberries with a light gray-blue color. A berry with any hint of red isn't fully ripened.
Ripening AFTER picking?
First, it is key to know that once picked, blueberries will NOT become any sweeter, nor will the flavor improve. The only change that occurs is the color. They will APPEAR to ripen, but it is only a color change, from white to green to rose to red to pale blue to fully blue. So, white and green colored blueberries will not "ripen" after they are picked; while blueberries that have already turned purple, red or blue-ish usually DO change color after they are picked (if they are kept at room temperature to "ripen").
As the blueberries ripen ON THE BUSH, the flavor goes from tastless to bitter to tasteless tart to tart blueberry flavor to sweet blueberry flavor.
Grocery stores sell blueberries that are tart, not sweet because they had them picked unripe by machine so they are very firm and can handled being bumped around in shipping. They may look good, but are not as tasty as those picked when actually ripe.
So, the key is, PICK ONLY RIPE BERRIES!
How to pick blueberries
Since blueberries hang on the bushes in bunches a but like grapes do, the easiest and fastest way to pick them is hold your bucket under them in one hand and with your other hand, cup a ripe bunch and gently rub them with your fingers. The ripe berries will drop into your bucket, while the unripe ones will remain attached to the bush.
When the bushes are at peak, I can easily pick 2 gallons per hour (if I'm not being distracted by the kids and the sun isn't too hot!). A newbie might do 1 gallon per hour and at the beginning or end of the season it takes more time as the berries are not as plentiful nor concentrated in clusters.
Tips for storing blueberries after harvesting:
Once picked, don't place the berries, still warm from the sun, in a closed bag or container. Leave the container open so moisture doesn't form in the container.
Don't wash berries until just before using, to prevent berries from becoming mushy.
Chill berries soon after picking to increase shelf life. Store your fresh blueberries in the refrigerator as soon as you get them home, without washing them, in a covered bowl or storage container. If refrigerated, fresh-picked blueberries will keep 10 to 14 days.
Freeze berries in freezer containers without washing to keep the skins from toughening. Place berries one layer deep. Freeze, then pour the frozen berries into freezer containers. Because unwashed blueberries freeze individually, they can be easily poured from containers in desired amounts. Remember both frozen and fresh berries should be rinsed and drained just before serving. Just before using, wash the berries in cold water.
Blueberry Facts
Blueberries are ranked No. 1 in antioxidant activity compared with 40 other commercially available fruits and vegetables. That means a serving of blueberries has more of the antioxidant power you need to fight aging, cancer and heart disease.
Put this in your pipe! Indians in the Northwest Territory smoked wild blueberries to preserve them for the winter. (Bet you didn't know that!)
Want to grow your own blueberries? Here's an article about how to: Growing Blueberries in the Home Garden, HYG-1422-98
Weights and measures: 1 cup of blueberries normally weighs about 143 grams, which about 1/3 of a pound, so 1 pound of blueberries is almost 3 cup's worth. Of course, this can vary considerably based on the variety, weather conditions and degree of ripeness. Typically, many recipes call for 3 to 4 cups of blueberries for a 9 inch pie.
Nutrition and miscellaneous facts: 1 cup (143 grams) of blueberries is 84 calories (technically, kcal). Blueberries contain no cholesterol or fat and are also low in calories. Blueberries are high in dietary fiber, Vitamin A and niacin. They contain iron and other trace minerals and are a fair source of Vitamin C. Blueberries have a diverse range of micronutrients, with notably high levels (relative to respective Dietary Reference Intakes) of the essential dietary mineral manganese, vitamin B6, vitamin C, vitamin K and dietary fiber (table below). One serving provides a relatively low glycemic load score of 4 out of 100 per day.Especially in wild species, blueberries contain anthocyanins, other antioxidant pigments and various phytochemicals possibly having a role in reducing risks of some diseases, including inflammation and different cancers. Blueberries may have anti-disease effects, too. Researchers have shown that blueberry anthocyanins, proanthocyanidins, resveratrol, flavonols, and tannins inhibit mechanisms of cancer cell development and inflammation in vitro. Similar to red grape, some blueberry species contain in their skins significant levels of resveratrol, a phytochemical with increasing evidence as an anti-cancer compound.[source: Wikipedia]